03/26/14

Current delivery times from time of order:
Rocket Fuel 5th Anniversary - Starts shipping 4/1. 1 week lead time from date of order.
Bipolar Fuzz - 1 week
Filthy Lucre - 1 week
Fuzz Universe Custom - 1 week
Fuzz Universe - 1 week
Rocket Fuel - 1 week
Body Blow - 1 week
Venom Boost 2 weeks
Micro Buff - 2 weeks
Well, it's taken a bit longer than expected, due to some unexpected delays in production, but we're now ready to officially ship the RF-LTD-5. For those who have waited, we thank you for your patience. We will begin shipping the RF-LTD5 on Tuesday, April 1.
Lots of you have been asking about the mysterious pedal that Jake E Lee has been using on tour with Red Dragon Cartel. The pedal in question is a heavily customized Body Blow pedal. Modified with a completely different EQ curve, with a bigger low end and more mids, with a touch more gain, the mod really thickens Jake's lead tone. Though we're still working out details with Jake and his tech Scott to release his custom model, we can modify a stock Body Blow to the custom specs (though the graphic will be that of the regular Body Blow and will still come with the two mini toggle switches). There will be an additional surcharge of $50 USD for the mod. Send us an email at: info@majikboxusa.com if you're interested.

01/23/14
Happy New Year! NAMM is here and we're all here at the beautiful Anaheim Convention Center in Anaheim. Please stop by and see us at booth #4394 in Hall C. You'll see the just unveiled Doug Aldrich Rocket Fuel 5th Anniversary Limited Model (Just 250 available worldwide) and other new things. Speaking of the Doug Aldrich RF-LTD5, it comes with a Certificate of Authenticity and a set of commemorative picks. These are on sale now, and will begin shipping the week of February 3. Order it now - get it early!

11/26/13
Two days before Thanksgiving, and we've just started to box up our first few Bipolar Fuzz pedals. Ever since we showed Bipolar Fuzz prototype #1 at the NAMM show in January, we've been getting steady inquiries about the pedal and questions regarding the release. Production prototypes were used by Korn and Marty Friedman on their respective recordings (hear the Bipolar Fuzz on Korn's Paradigm Shift CD and Marty's upcoming solo disc Inferno.) And now the time has finally arrived. We'll begin shipping the Bipolar Fuzz starting next week. We're really proud of the pedal and hope you guys dig it as much as we do.
In addition, we've been busy cooking up a few new surprises for NAMM. We'll be in Hall C this time, booth #4394. Please come say hello!
Happy Thanksgiving!
09/01/13
As you all probably know, Majik Box pedals have been sold exclusively on-line, on this very web-site exclusively in the U.S. That is, until now. We are proud to announce that Majik Box pedals are now available at select Sam Ash Music locations (look at the distributor and dealers section for a location near you) and at the two Bananas At Large locations for those of you in Northern California. So now U.S. residents have a choice. Buy directly from us, or walk into a select Sam Ash or Bananas store and buy from them. Yeah!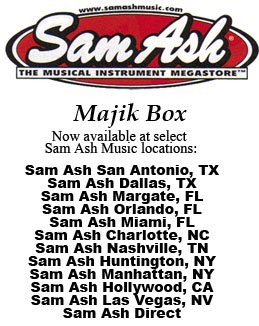 We'd like to of all thank you all for the incredible reception that Filthy Lucre has received. It is quickly becoming one of our best selling pedals, and it has been showing up on pedal boards everywhere! Special thanks to Tracii Guns (LA Guns, Raiding the Rock Vault, League of Gentlemen) who has been a fantastic evangelist for the Filthy Lucre. Look out for a video feature on Tracii and his Vegas extravaganza Raiding the Rock Vault rig coming soon.
We are also please to announce that Josh Rand, one half of the amazing guitar duo in Stone Sour is the latest endorser of the Body Blow overdrive. Josh did a shoot out between the Body Blow and his old favorite overdrive and dare I say it, according to Josh, the Body Blow simply blew the other pedal away. Josh now has all three of his live rigs equipped with the BB-1.